He turned 3 on September the 6th.
We are now in Australia living.
He also has a 9 month old brother.


TLDR: So, what I am asking is, what is your child's food schedule, and what are they eating for meals? (It'd be even more of a plus if it's easy to make!)

Edit: Also, do you give your kids juice? I haven't really given her it but I've heard mixed things. If you do, what type?
Hey everyone! My daughter just turned 8 months. (She was born at the end of September) I went to her doctor's appointment yesterday and they said to start weaning her off of bottles and that she should only be having like 18 oz. a day and to give her more solid food. I had no clue I was already supposed to do this. (She's been having like 30 oz. a day probably, maybe 25.) She doesn't like the purees and we have been giving her solids which she LOVES. We mostly just whatever we are eating, but I don't usually eat all 3 meals so I am looking for things that I can give her for them. I'm wondering now what sort of food schedule and what sort of things that I should give her to make up for the bottles.
HAPPY MOTHERS DAY EVERYONE!



Current Mood:

cheerful
Sitting by himself, just hit 17 pounds and now is around 26" long, eating solids
like a trooper, red hair is still....well....bright red, loves Star Trek (TNG in particular),
will be meeting his Grandma for the first time next week (she is flying
out from Australia to give him hugs and kisses), no crawling yet, but he
makes the attempt, loves to bounce and of course is just generally awesome.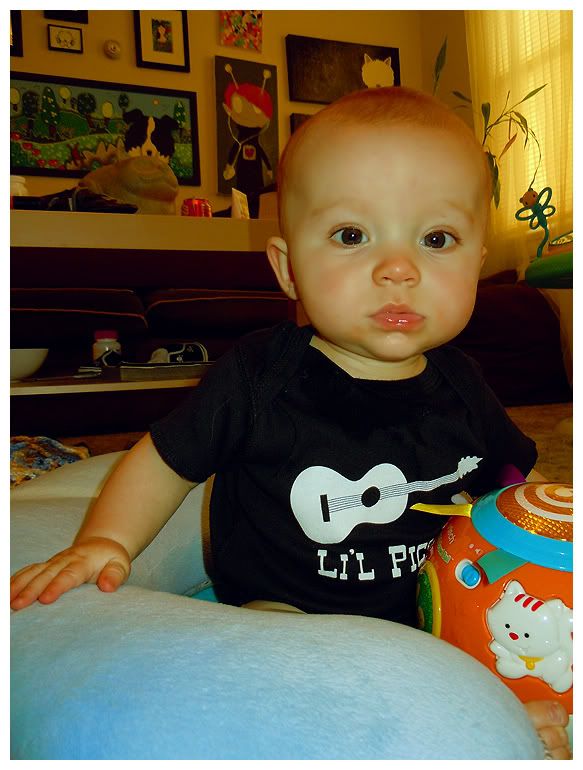 (
Read more...
Collapse
)
Current Mood:

accomplished
My little girl is getting so big and I don't know what to do about it. She sits up on her own and it seems she will be crawling soon, she said's bobba, sometimes just bob,And that's weird seeing she's a booby baby. She also said's momma when she is mad or bored. I love her soo but I just wish she would slow down. lol. Here are some pics
Lilian Olivia, born September 11th 2009.
We've started with the solids about 3 weeks ago, still being breastfed.
(
Pictures ( LOTS )
Collapse
)
Ian is out of control, he sits, he crawls, and pulls himself up, knocks things over and claps.
Current Mood:

amused
My doctor didn't seem concerned at last month's checkup and we have another checkup next week, but now I'm kind of concerned. Is anyone else not crawling?
She also cannot sit up on her own, but does come close on that as well.
(
Some pictures.
Collapse
)
My little girl was born Sept 15, so she is now a few days past 6 months old. She doesn't crawl yet, but it looks like she's close, occasionally inching around the carpet like a worm.
Current Mood:

accomplished


How much are they eating in their bottles, and how are they handling solids if you started them?

My daughter is on purees and drinks 5oz. per bottle. She isn't sitting yet but I'm hoping it'll come soon! She was born on the 21st so she still has awhile before she's 6 months. I'm hoping she'll be sitting for her 6 month pictures! :) She has her first two teeth. She's rolling everywhere!

She's doing great with purees. We started a little early, with permission from her ped, because of reflux. I'm wondering if we should start giving her some actual food once she turns six months. I'm not sure what to start with though? Any recommendations?

Also- what toys do your little ones love? I'm always looking for recommendations. :)
Hey! I hope all of your September babies are doing great. :) I had a few questions for you guys! How many teeth do your little ones have? Are they sitting on their own? Any of them crawling yet?